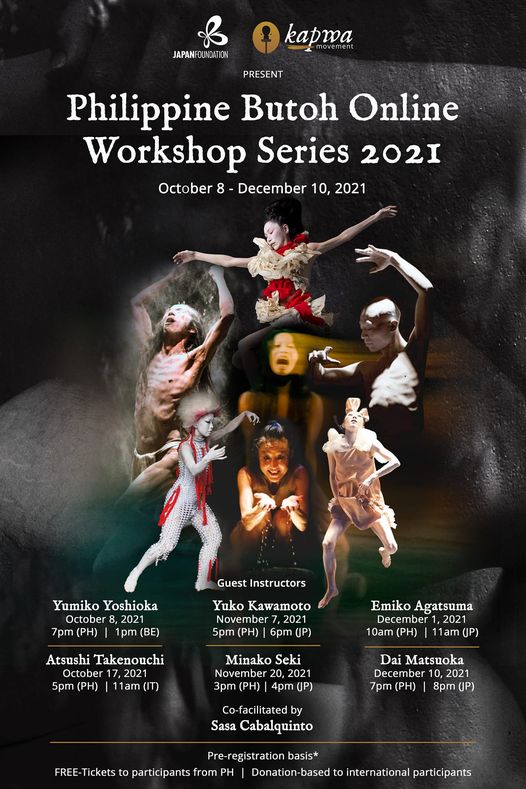 裕子さんはじめ、
国際的にご活躍されている舞踏家さんたちのワークショップを
オンラインで受けられるイベントがフィリピン初で開催されます。

Philippine Butoh online workshop series 2021
REGISTRATION IS NOW OPEN!!!
------
Be part of the first Butoh workshop series in the Philippines!
Join us as we explore the three shared essence inside in all beings—
Buhay (life), Pag-ibig (love), and Hininga (breath)
-----
PHILIPPINE BUTOH ONLINE WORKSHOP SERIES 2021
October 8 to December 10, 2021
via ZOOM
This is an online movement workshop series that intends to reintroduce Japanese Butoh dance in the Philippines and integrating the form to the context of Philippine indigenous wisdom and ritualistic practices.
We invite 6 international Japanese Butoh artists from Japan, Germany and Italy that will share their artistic practice and will be collaborating with co-facilitator, Sasa Cabalquinto, in integrating a Butoh exercise into the context of a " Filipino body".
This workshop series is open to no specific age, gender, religion or racial identity— all are welcome and encouraged to express one's self without inhibition. There is no requirement for dance or theater background as well.
The workshops are FREE for local participants in the Philippines. We are also opening this project for international participants on a donation-basis. Please be advised on the timezone difference.
To register, please click the link below:
For international participants